September 9th: 10am – 4pm
September 10th: 12 noon – 4pm
Military Hospital Ward at St George's Parish Room
During the First World War the War Office acquired St George's School to be used as a Military Hospital. The pupils were moved out to other local schools and the halls and corridors were used to house the sick and wounded. It was chosen because it was a new school "with good light and ventilation and [which] from every point of view would make [a] good hospital."
The first patients are reported as being admitted in July 1915.
For the duration of the Heritage Open Weekend, we will be converting the Parish Rooms back into a ward of the Millitary Hospital. Many thanks go to Dunham Massey and the National Trust for the loan of their equipment and uniforms.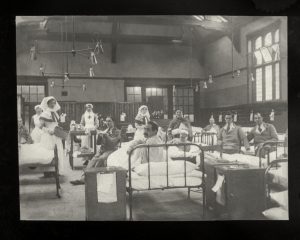 ---
Art Installation: "Doors"
St George's church have commissioned a local photographer, Naomi Jones, to produce an installation commemorating the 137 men whose names appear on the War Memorial. She will be photographing the front doors of the home addresses of the men and they will be displayed together with a short biography and details from the Commonwealth War Graves Commission.
These will be on display for the duration of the Heritage Open Days.
If you would like to see a map of where those commemorated on our War Memorial lived – click here.
---
Art Installation: Poppy Net
The War Memorials of Stockport commemorate 2827 men and one woman killed in the First World War. Our Poppy Net hanging from the lantern gallery of the tower has 2828 knitted poppies on it. The net is 20 metres long and 6 metres wide.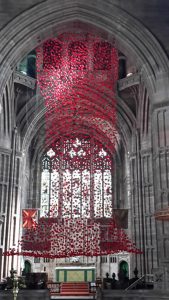 ---
Cafe Concert
Our Cafe Concert & Book Sale is also on Saturday mornings between 10.00 am to 12 noon
Entry is free, so come and browse the books, listen to the music or enjoy a refreshing cuppa!
---
Tower Visits
There will be trips up to the tower for any intrepid visitors. These will be at 10.30, 11.30, 12.30, 14.00 and 15.00 on Saturday. Booking essential on the day.
---
Evensong
On Saturday the day will end with Choral Evensong at 16.00.
---